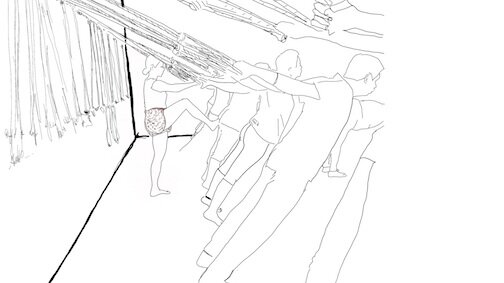 Introduction to Iyengar Yoga
Our in-studio, entry-level program.  It is suitable  for complete beginners, as well as those coming from other traditions of asana practice.
Next Batch expected to start
27 September, 2023
Admission process starts at the beginning of September. We invite you to come over, see the space, observe a class, and meet us before signing up.
Program Duration: 8 weeks; 24 classes (16 in-person + 8 recorded sessions). Registration for the entire period is mandatory at the time of joining
Suitable for: Absolute beginners to yoga, and for those coming from other traditions of asana practice
Schedule: Two 60 min. sessions/ week + access to one recorded session/ week for home-revision
Admission Process: You are encouraged to come in to observe a LIVE class before enrolling. Select a class from the ongoing classes schedule Here. Send us an email/ message with your preferred date for Class Observation. Stay back after the class to speak with us if you have any queries. Admission is confirmed once the fees are paid in full. Spots will be filled on first-come-first-served basis.
Fees: Rs. 7,500 for the entire course
Days: Wednesdays & Saturdays
Times: 6:30am – 7:30am
To enrol send a whatsapp message to Jaya at 9535048899.  Please do not make any payments without speaking with us.
Don't want to wait till admissions re-open?  Jump right in with the 8-week Online Bridge Course.  You can work at your own pace, and join the Level Foundation directly
Please Note: Direct admissions to the Levels Foundation and Consolidation is open only for practitioners who have been studying regularly with a recognised teacher in the Iyengar tradition.  For everyone else, the Introductory Program (either in-studio, or through the Online Bridge Course) is mandatory.
Our admissions are not always open, and we usually have a waiting list. Want us to keep you informed? Please fill up this form, and we will get in touch with you as soon as we have the admission dates