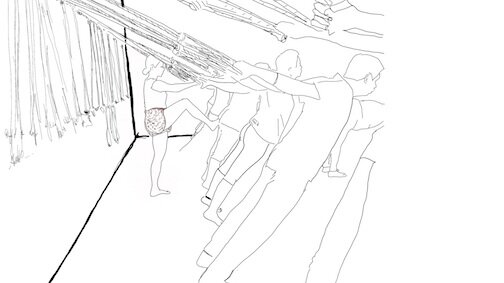 After a whole year of being online, we resumed in-studio classes from January 2021 with Covid-appropriate prcautionary measures*. While we will do all we can to create a safe learning environment for you, we request your cooperation to be sensitive to the safety concerns of everyone around you.  We also request for your patience as we try to to figure out the the most efficient way to roll out our in-studio classes, and the most effective way to conduct classes in these new times.
ENROLMENTS ARE SUSPENDED FOR THE MOMENT
Level: FOUNDATION 

(Beginner)
Lays the foundation of a robust asana practice
Program Duration: 12 months with regular attendance. Ends with taking the students to the threshold of the basic inversions (sirsasana and sarvangasana)
Suitable for: Beginners to yoga OR  practitioners from other traditions (can be fast-tracked)
Schedule: 75 min classes, twice a week
Fees: Rs 3,500/ month (a discounted fee of Rs 9,500 for the first 3 months is to be paid at the time of joining)
Batch 1
Tuesdays & Thursdays, 6:30am to 7:45am
Batch 2
Mondays & Wednesdays, 7:45 am to 9:00am
Batch 3
Mondays & Thursdays, 7:00 to 8:15pm
ENROLMENTS ARE SUSPENDED FOR THE MOMENT
Level: CONSOLIDATION
Builds upon, and consolidates the foundational practice, introduces breath-work
Suitable for: Those want to maintain, a steady asana/ pranayama practice
Schedule: 90min classes, either twice or thrice a week
Fees: Rs 4,000/ month for 2 classes/ week; Rs 5,000/ month for 3 classes/ week
Times
For those attending twice/ week: Mondays & Wednesdays, 6:15 to 7:45am
Additional session for those attending thrice/ week: Fridays, 6:45 to 8:15 pm
ENROLMENTS ARE SUSPENDED FOR THE MOMENT
Level: ADVENTURE
Builds skill and stamina in asana practice; advanced/ complex asanas are taught 
Suitable for: practitioners who have at least 3 years of regular asana practice, and are able to execute the basic inversions and back arches
Schedule: 90 min classes, twice a week
Fees: Rs. 4,000/ month
Times
Tuesdays & Fridays, 6:15 to 7:45am
Level: Gentle


For those who will benefit from a slower paced class done with more support and for people that cannot attend in-studio classes  (ONLY BY INVITE)
Schedule: 90 min ZOOM class, once a week and access to two pre-recorded classes
Fees: Rs. 2,000/ month
Times
Thursdays, 7:45 to 9:15am ZOOM
(two more classes will be made available on the portal)
*COVID-appropriate precautionary measures:
– In-studio classes are subject to administration guidelines relating to the pandemic.
– physical distancing of 3 ft. – spaces will be clearly marked out on the floor and wall
– BYOP – mat, couple of blankets, couple of blocks and a belt. No use of common props
– follow personal hygiene measures while coming in and going out – hand washing
– carry hankerchief/ tissue paper and strictly follow respiratory-etiquette
– we will continue to be extra vigilant in keeping the premises clean.
– self-monitoring: stay away from in-studio classes if running a temperature/ respiratory infection/ taking care of a Covid patient.
– no hands-on physical adjustment.
We usually have a waiting list for admissions.  Want us to keep you informed? Please fill up this form, and we will get in touch with you as soon as we have the admission dates