What are the options of online learning with the Practice Room.
As of January 2022, we are not doing Livestream/ zoom classes.  However, there are still TWO options of learning online:
subscribe for the Monthly Online Program – you will get access to a set of curated classes for progressive learning throughout the month.  You will also get access to a limited number of 'Short Courses' from our Recorded Library for dee-dive into specific topic.
You can subscribe to out Monthly Online Program Here
You can rent our recorded Classes.  This is ideal for those who are looking for classes related to specific topics.  Our classes are catalogued and tagged, making it easy to search through them.  You may choose to rent the classes from 48 hrs. to 10 years.
Rental Module COMING SOON!
I have just subscribed to the Monthly Online Program. What do I do next?
Please read through the Welcome email that you will receive, and spend some time working with the Preparatory material shared with you
You get access to the Practice Space Monthly Library offering as soon as you sign up.  This includes your weekly recorded classes for the whole month, Ques and Ans. as soon as you sign up.   Familiarise yourself with the Dashboard of 'Your Account', where you can manage your Account.
You will also receive an email from us when you sign-up.  This email will have links for some preparatory material for you.  Before you jump into the regular classes on your Weekly Playlist, we strongly advise that you take a couple of days to  go through the preparatory videos.  Especially so if you are an absolute beginner, or if you are new to the Iyengar tradition.  Teaching yoga online is a new development around the world.  We have put together the Preparatory material to ease over some of the preliminary challenges that come up. the material has been refined over the last few months with feedback from our online community.   Spending time to go through the preparatory material will get you ready to join the regular weekly classes, will answer many of the questions that might come up in the initial days and weeks, and will give you tips on how to make the most of this Online Program.
How do I make a payment?
You can pay through the payment gateway using a credit or a debit card.
Since we offer a subscription service (where the monthly subscription amount is auto-debited from your account on a monthly basis), we can offer you only a limited number of payment options.
Netbanking, Paypal, UPI-based payment options are not currently available
How do I cancel my subscription to the monthly online program?
you can cancel your subscription at any time Here. 
Pl. note, you will be charges till the end of the current billing period.
I had signed up for the subscription service, but the subscription expired at the end of  one month from the date of sign-up.  Why didnt  my subscription auto-renew, and what do I do next?
Our Payment system is set-up to attempt auto-renewal exactly a month from the date that your subscription started.  However, some cards/ banking services do not allow auto-debit.  if the auto-renewal attempt fails, your subscription will be automatically terminated, and you will get an automated email with this information.  Please be on the lookout for this email.   You will then, have to buy a new subscription.  If you do not want to buy a new subscriptions every month, please attach a card that allows auto-debits.  Usually all credit cards allow this.
How do I opt out of the auto-renew option?
When buying the subscription, attach a card that does not allow auto-debits.  You will have to check with your card-issuing agency (i.e., your Bank) about the protocol of your card.
Can I buy multiple subscriptions?
yes, you can.
How do I change my password?
If you are logged in, PLEASE LOG OUT FIRST.  Then click on the 'Forgot Password' link on the sign-in screen.
How do I decide which level to sign-up for – Beginner or Intermediate?
We have given some guidelines for deciding this.  In this format, we cannot give you a more individualised advice, and the responsibility of selecting an appropriate Program level rests with you.
If in doubt, we recommend that you sign up for the Beginner Level Program for a month or two.  You can change your Program Level by simply canceling your subscription (you will be billed till the end of your current billing period), and filling in a new subscription.
The considerations for signing up for the Beginner Level are given here:
https://thepracticeroom.in/online-program-beginners/
The considerations for signing up for the Intermediate Program are given here:
https://thepracticeroom.in/online-program-intermediate-level/
How are the pre-recorded sessions transmitted?
The recorded sessions are hosted on Vimeo.com.
The practiceroom website is not opening/ i am not able to view the videos/ I am not able to make a payment!
Our content, and the Payment Gateway, is hosted by third-party service providers. We have ensured that these service providers are reputed and dependable.  We have also optimised our website and its content across devices and browsers, and done extensive testing.  But technology is not 100% glitch-free.  Sometimes, there are incompatibilities between the Service Providers's protocols.   In our experience, small glitches are usually resolved when you:
re-try after a little time
use a different browser
use a different device
use a different card for payment
clear the cache
ensure that the internet connection is robust.
Beyond this, things are not really in our hands. If there are persistent tech problems, we will definitely re-evaluate our service providers.  But we are not a technical team, and will not be able to troubleshoot individual technical problems.
I want to go back to a previous session.  How do I get access to an older session?
You can rent our recorded sessions.  The Rental Module is Coming Soon!
As an online student, can I ask questions?
You may ask us any yoga related question! email us your queries, and we will either respond to you personally, or make a short recording of the response and share it with you.  Our Q and A sessions are separately recorded, along with responses to questions that we receive offline.  You also have access to the Q and A Playlist..
I want to learn inversions/ other advanced asanas.  Is this program suitable for me?
We do practice independent inversions, backward extensions, balancing positions in our Intermediate Level Program.  But we do not TEACH inversions in the online format.
In our in-studio classes, students are prepared for inversions over a period of a year or two.  During this time, we attempt to correct any gross imbalances in their skeleto-muscular structure, and to strengthen their limbs, shoulders, back for the more advanced positions, and for inversions.  When we start introducing these positions, we continue to closely monitor them.  We have often pulled our students back to a more basic or supported position if we felt that they are at risk of injuring themselves in the long run.
None of this is possible in the Online format.
We have seen several yoga injuries that have set in due to wrong execution of the more complex asanas over a long period of time, and we dont think its a risk worth taking.
So, while we do some of of these asanas in our Intermediate Level Program, in the Online format, it is the student's responsibility to choose, and to act with discretion.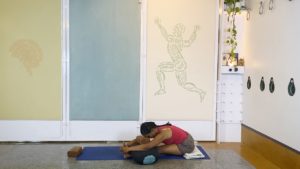 Uncategorized
If we go into every 'self practice' session expecting that we will have the kind of deep focussed, penetrative experience that we have in a class, we are setting ourselves up for disappointment.
Read More »