Ok, I have subscribed. What do I do next?
Please read through the Welcome email that you will receive, and spend some time working with the Preparatory material shared with you
You get access to the Practice Space Monthly Library offering as soon as you sign up.  This includesyour weekly recorded classes for the whole month, the livestream (zoom) invites, Ques and Ans. as soon as you sign up.   Familiarise yourself with the Dashboard of 'Your Account', where you can manage your Account.
Can I do a trial session before paying for the Online Program?
Yes. Since we ask for the committment of a monthly subscription, we think it's only fair that you get a chance to sample what you are signing up for. Upon sign-up, you will get access to:
Preparatory material (particularly useful for beginners and for those coming form other traditions of yoga), and,

one week of access to our regular online schedule of recorded + live-streamed classes.
THE TRIAL WEEK IS OPEN ONLY FOR FIRST TIME SUBSCRIPTION, AND TO THOSE WHO HAVE NOT TAKEN IN-STUDIO CLASSES AT THE PRACTICE ROOM.
How do I make a payment?
You can pay through the payment gateway using a credit or a debit card.
Since we offer a subscription service (where the monthly subscription amount is auto-debited from your account on a monthly basis), we can offer you only a limited number of payment options.
Netbanking, Paypal, UPI-based payment options are not currently available
I am being asked for my card information when I try to sign-up with for a free trial!
Dont worry, your card will not be charged for a week.  You may cancel at any time during this period by going to the following link:
https://thepracticeroom.in/my-account/view-subscription/
I had signed up for the subscription service, but the subscription expired at the end of  one month from the date of sign-up.  Why didnt  my subscription auto-renew, and what do I do next?
Our Payment system is set-up to attempt auto-renewal exactly a month from the date that your subscription started.  However, some cards do not allow auto-debit.  if the auto-renewal attempt fails, your subscription will be automatically terminated, and you will get an automated email with this information.  Please be on the lookout for this email.   You will then, have to buy a new subscription.  If you do not want to buy a new subscriptions every month, please attach a card that allows auto-debits.  Usually all credit cards allow this.
How do I opt out of the auto-renew option?
When buying the subscription, attach a card that does not allow auto-debits.  You will have to check with your card-issuing agency (i.e., your Bank) about the protocol of your card.
Can I buy multiple subscriptions?
yes, you can.
How do I change my password?
If you are logged in, PLEASE LOG OUT FIRST.  Then click on the 'Forgot Password' link on the sign-in screen.
How do I decide which level to sign-up for – Beginner or Intermediate?
We have given some guidelines for deciding this.  In this format, we cannot give you a more individualised advice, and the responsibility of selecting an appropriate Program level rests with you.
If in doubt, we recommend that you sign up for the Beginner Level Program for a month or two.  You can change your Program Level by simply canceling your subscription (you will be billed till the end of your current billing period), and filling in a new subscription.
The considerations for signing up for the Beginner Level are given here:
https://thepracticeroom.in/online-program-beginners/
The considerations for signing up for the Intermediate Program are given here:
https://thepracticeroom.in/online-program-intermediate-level/
What happens after I sign-up for the Online Program? How soon can I get access to my recorded sessions/ when will be able to attend a livestream session?
You will have access to the recorded sessions of the past week as soon as you sign-up for the Online Program (accessible through your account login).
Your first livestream will be as per the program schedule for your Level (Mondays and Wednesdays for the Beginner level; Mondays and Thursdays for the Intermediate Level)
You will also receive an email from us when you sign-up.  This email will have links for some preparatory material for you.  Before you jump into the regular classes on your Weekly Playlist, or one of our livestream sessions, we strongly advise that you take a couple of days to  go through the preparatory videos.  Especially so if you are an absolute beginner, or if you are new to the Iyengar tradition.  Teaching yoga online is a new development around the world.  We have put together the Preparatory material to ease over some of the preliminary challenges that come up. the material has been refined over the last few months with feedback from our online community.   Spending time to go through the preparatory material will get you ready to join the regular weekly classes, will answer many of the questions that might come up in the initial days and weeks, and will give you tips on how to make the most of this Online Program.
I missed the morning livestream! when will you upload a recording of this session on my Playlist?
It is our attempt always to make the recording of the morning livestream session available on your Playlist by the same evening. However, this involves some work. To provide a better audio and video quality, what we share with you is not a zoom download. We record the sessions simultaneously on a different video and audio track, we edit this video before uploading it.
Sometimes there are glitches – lost audio/ video files, power outage, internet disruption… that may delay this process.  At any rate, we have so far always uploaded the session by midnight of the same day.  In case there is a delay beyond this in the future, we will keep you informed,
How are the live-streamed classes transmitted?
the live-streamed classes are currently transmitted through zoom.us.
How are the pre-recorded sessions transmitted?
The pre-recorded sessions (as well as a recording of the live-streamed sessions) are hosted on Vimeo.com.
The practiceroom website is not opening/ i am not able to view the videos/ I am not able to make a payment!
Our content, and the Payment Gateway, is hosted by third-party service providers. We have ensured that these service providers are reputed and dependable.  We have also optimised our website and its content across devices and browsers, and done extensive testing.  But technology is not 100% glitch-free.  Sometimes, there are incompatibilities between the Service Providers's protocols.   In our experience, small glitches are usually resolved when you:
re-try after a little time
use a different browser
use a different device
use a different card for payment
clear the cache
ensure that the internet connection is robust.
Beyond this, things are not really in our hands. If there are persistent tech problems, we will definitely re-evaluate our service providers.  But we are not a technical team, and will not be able to troubleshoot individual technical problems.
Can I continue to access my online material indefinitely?
You will have access to each recorded session for about a week.
Other material (like the Q and A Playlist) are available as long as you are subscribed to the program.
We sometimes give special access (usually through your Bonus Material Playlist) for limited period of time.
I want to go back to a previous session.  How do I get access to an older session?
You can purchase our recorded sessions.
What if I am in a different time zone, and the times of the live-streamed classes do not work for me?
Currently our live-streamed classes are scheduled as early-morning sessions according to the Indian Standard Time (+5:30 GMT). We will add classes for other time zones in the near future.
As an online student, can I ask questions?
You may ask us any yoga related question at the end of  your live-stream sessions.  you may also email us your queries, and we will take them up at the end of the livestream session.  Our Q and A sessions are separately recorded, along with responses to questions that we receive offline.  You also have access to the Q and A Playlist..
Will the teachers be able to correct my asana positions in the livestream class?
We play the zoom screen on a large television screen and are looking at you as the session is being conducted.  We make whatever corrections are possible to be made in this format.  But bear in mind, we can only see a  small, 2-dimensional version of you even on a large sized screen.  We do not get a three dimensionall view, we cannot see how your muscle movement, your breath, your eyes, your skin, how you move, stand and sit outside of your asana practice…this is no substitute for a live class.
To help us observe you better, please follow the 'good practice guidelines' shared along with your livestream invites.
Will the teachers be able to give me specific instruction for my physical injuries/ limitations?
The Iyengar tradition is widely accepted for its therapeutic efficacy.  However, an Online Program differs from an in-person session.  We will not be able to observe you closely, and will not be able to make nuanced adjustments/ correction in this format.  An online program is largely self-directed where the student is largely responsible for their actions.
However, we do usually give generic contraindications and adaptations/ alternatives for the most common health issues and conditions – weak back, knees, shoulders, and advice for women during their menstrual cycle.
For any serious health concerns or limitations, we advise you to contact your health care provider, and take guidance from an experienced teacher in your area of residence.
I want to learn inversions/ other advanced asanas.  Is this program suitable for me?
We do practice independent inversions, backward extensions, balancing positions in our Intermediate Level Program.  But we do not TEACH inversions in the online format.
In our in-studio classes, students are prepared for inversions over a period of a year or two.  During this time, we attempt to correct any gross imbalances in their skeleto-muscular structure, and to strengthen their limbs, shoulders, back for the more advanced positions, and for inversions.  When we start introducing these positions, we continue to closely monitor them.  We have often pulled our students back to a more basic or supported position if we felt that they are at risk of injuring themselves in the long run.
None of this is possible in the Online format.
We have seen several yoga injuries that have set in due to wrong execution of the more complex asanas over a long period of time, and we dont think its a risk worth taking.
So, while we do some of of these asanas in our Intermediate Level Program, in the Online format, it is the student's responsibility to choose, and to act with discretion.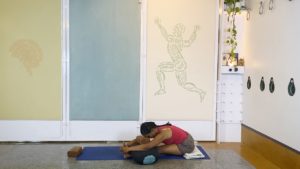 Uncategorized
If we go into every 'self practice' session expecting that we will have the kind of deep focussed, penetrative experience that we have in a class, we are setting ourselves up for disappointment.
Read More »