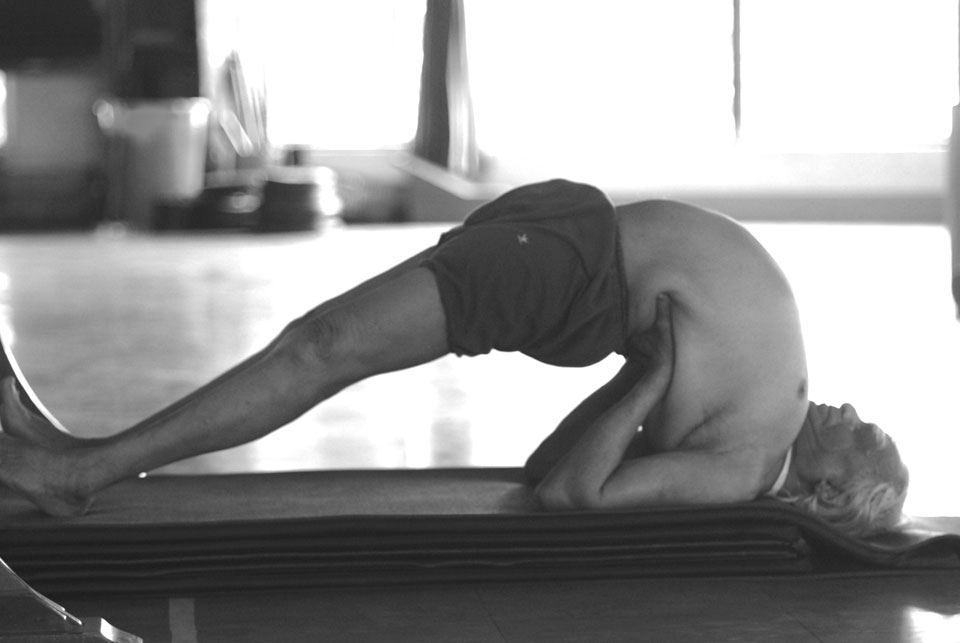 "At this age, I clearly understand the sutra (Yoga Sutras, II.46), sthira (stable, firm) sukham (sweet, easy) asanam (posture) in its total sense. Now, I see in each asana, the perfect freshness and firmness of body, the alert, steadiness of intelligence and the sweet, benevolence of the self."
BKS Iyengar, 2011, commenting on his own practice at age 92
Importance of Yoga for Senior Citizens
With age, many things that we like doing, can become inaccessible to us.  Thankfully yoga is not one of them!  This is indeed a great blessing.  Yoga can be a tremendous support in the later phase of ones life.  Many scientific studies have been conducted in the past few decades that prove the efficacy of yoga practice for Senior Citizens*
If you are a 'Senior Citizen', you can expect the following benefits from an appropriate and balanced yoga practice:
For the body: better health. You will be able to control the chronic age-related health issues (blood pressure, diabetes, arthritis etc.), and reduce dependency on medication. You will bounce back much faster from any illness/ prolonged treatment/surgery 


For the mind: It will keep your mind alert, inquisitive, thereby slow down ageing. At a time when one can often end up missing the loss of an active role in society, in the office or in the household It will make your mind positive, as well as adaptive.  


For emotional health: Working with a group of people will create a sense of camaraderie, and will help to cope with the stresses of ageing


For spiritual progress: It will create a foundation for meditative practices (dhyana) that are the higher aims of the eight-fold path of yoga
Good health, mental and emotional wellbeing, will keep you independent and self-reliant, so you can continue to remain productive late into your life, and the society can benefit from your experience and wisdom. 



Who is a 'Beginner' student of Yoga at the Practice Room?
A 'beginner student' is not a homogenous category.
– A sedentary adult without much physical activity, looking to transition to a more healthy lifestyle, can be a 'Beginner'.
– An active person – maybe a runner or a sportsperson – trying to further improve your performance in your chosen field, or hoping to balance some of the imbalances created due to your chosen activity, can be a 'Beginner'.
– Even a yoga practitioner in another tradition can be a 'Beginner'.
A 'Beginner' is not a comment on your physical abilities or skills. While some beginners are coming for their first yoga class, many 'Beginner' level students can be skilled in other kinds of physical activities, including other forms of yoga.
Why Iyengar Yoga for the elderly?
Part of the uniqueness of the tradition as developed by B.K.S. Iyengar is its adaptability.
Unlike many other traditions, Iyengar yoga offers innumerable ways of changing the practice to be most effective for the student.  Mr Iyengar left behind a methodology whereby the elderly can practice safely – and strongly – by using various kinds of supports.  The use of 'props' in Iyengar yoga opens up an infinite number of opportunities for the elderly to explore, learn and benefit from yoga*
At the Practice Room we have been working with senior citizens consistently over the last few years. Our Silvers + Gentle Group is made up of a group of sincere, engaged, and wise elders who are an integral part of our student community.  We recognise all the achievements and experiences that carry with them, and try to teach them in a way that does not dumb-down the subject.  The senior citizens are introduced to all categories of Asanas, at a slower pace, and with more support.  We have found their consistency, their ability to grasp the nuances of the subject, to appreciate the benefits of their pracitce, is often is better than younger people.
Our Approach to teaching yoga to Senior Citizens:
With age, activity reduces. The muscles and joints become weak, and arthritic conditions set in.  It is a vicious cycle that leads to pain, limited mobility, and loss in confidence.  We work on strengthening the limbs, to increase mobility, reduce pain, and improve confidence.
We work on strengthening the internal organs like heart, lungs, liver, kidneys, which improves the physiological functioning, and control chronic age-related diseases like blood pressure, cholesterol etc.
As a next step, we introduce challenging Asanas like back arches and inversions with support. These asanas not only have powerful physiological effects, but also give a sense of achievement and elation.
When the body is sufficiently prepared, pranayama is introduced for its deeper effects on the psyche.
Meet some of our 'Senior Citizen' students in these videos:
Interested in Joining our Silvers + Gentle Batch?
Come with an open mind.  The Silvers+ Gentle batch can be challenging and rigorous
There is no minimum age, neither is there a maximum age for admittance to this batch. The age of participants in our SIlvers + Gentle group ranges from 55 to 85 years.  However, you have to be able to move around independently, so that can, pick up, arrange, and put back your prop supports.

Although we are continuing to do online sessions for senior citizens, We are NOT admitting new students in this batch. We expect admission to the Silvers Batch to re-open in July 2021.
________________
*Study conducted on the effects of an 8 week Iyengar program to improve age-related changes in hip extension, stride length, and associated indices of gait function in healthy elders, changes that have been linked to increased risk for falls, dependency, and mortality in geriatric populations.
https://pubmed.ncbi.nlm.nih.gov/16181950/